I never thought Paris would be somewhere I would ever visit in my life. I guess I never thought of myself as someone who was particularly drawn to the city. But since I'm already this far, and the flight was only
£30 round trip, I decided to go with Taylor, Shayna, and Holly this weekend. I fell in love after the two days we spent there. After we'd booked our flight and hostel, we discovered that we'd chosen the best weekend possible to travel to the city of light. The city opens its doors free of charge on the first Sunday of every month, so we figured that we can do most of our desired sightseeing on the Sunday of our trip. On top of that, we figured out that the Saturday night was the famous Nuit Blanche, where the city becomes one big party all night long, full of art and music all free of charge. Lucky for us, our hostel had no curfew so we were free to experience Nuit Blanche in Paris - amazing.
First things first, we boarded a bus in Glasgow on Friday morning to take us the hour-long trip to Glasgow Prestwick airport, one of the smaller international airports that RyanAir operates out of. That trip was about
£5 each and a good hour or so on the top of a double decker bus. Once we arrived at the airport, our relationship with Ryanair began. We had our visas checked and went through the security check, and were spit out into the single waiting area that Prestwick had for all of its gates. We finally walked the tarmac and boarded our plane, where they told us that the aircraft was experiencing a technical difficulty and would have to be assessed by an engineer. The man sitting next to me and Taylor confessed to us that he was an aircraft engineer for British Airways - bad luck. After about a half hour they finally deboarded us (as Holly had predicted they would) and put us in yet another queue (the British are huge fans of long, non-moving lines apparently) to wait for another craft to be ready for us. So our takeoff was just under an hour later than scheduled, but none of us were bothered much - after all, we were on vacation!
The airport we landed at was also about an hour out of the city, so we boarded a shuttle for
€16 that took us into Port Maillot on the North end of Paris. After we got off the bus we made a beeline for the street map of the city, and had not gotten any farther than figuring out where we actually were than a French man with his family stopped and asked us where we were headed. We weren't actually sure, so he looked up our hostel on his iPhone for us and showed us the mapped route to there. When we determined that it wasn't possible to walk, he told us how to take the metro all the way to our hostel. So our first Parisian friend was a godsend! We took a
€1,70 metro adventure and came out at the Republique square under the Fontaine du Roi, just a block or two from the Hostel Absolute Paris. The city was vibrant and alive, buzzing with young people and filled with streetside cafes and open front bars. We found the hostel easily and checked in for two nights, totalling
€63 each. We had booked a four-bed dorm room, so we were able to get the whole room to ourselves. We dropped our backpacks and headed out into the street, stopped at an open front cafe on the corner of the Republique and ordered a bottle of Chardonnay, crepes, cheese, and baguettes. We went to bed shortly after to rest up for our first day attempting to tour the massive city.
Paris at night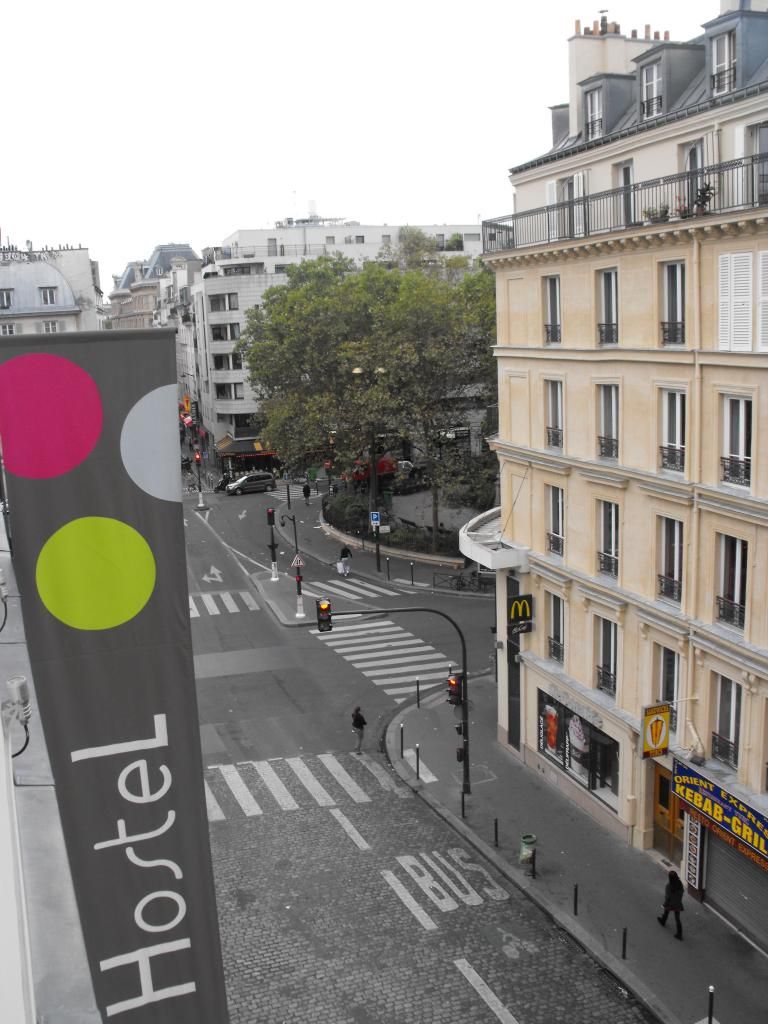 Paris in the morning
At 9 am we got our free breakfast of croissant, milk and cereal, coffee, hot chocolate and baguette with butter and jam. We mapped our way to the first bus stop of the day with full bellies free of charge. We had pre-ordered tickets on the Hop-On-Hop-Off tour of Paris, which let us get on any tour bus we wanted and take them all over the city at our own pace. We did a drive-by of the old Moulin Rouge building, and got off at the Gare du Nord train station. We explored a little bit of that area and walked to Gard du l'Est, hopped back on the bus and took it to Notre Dame.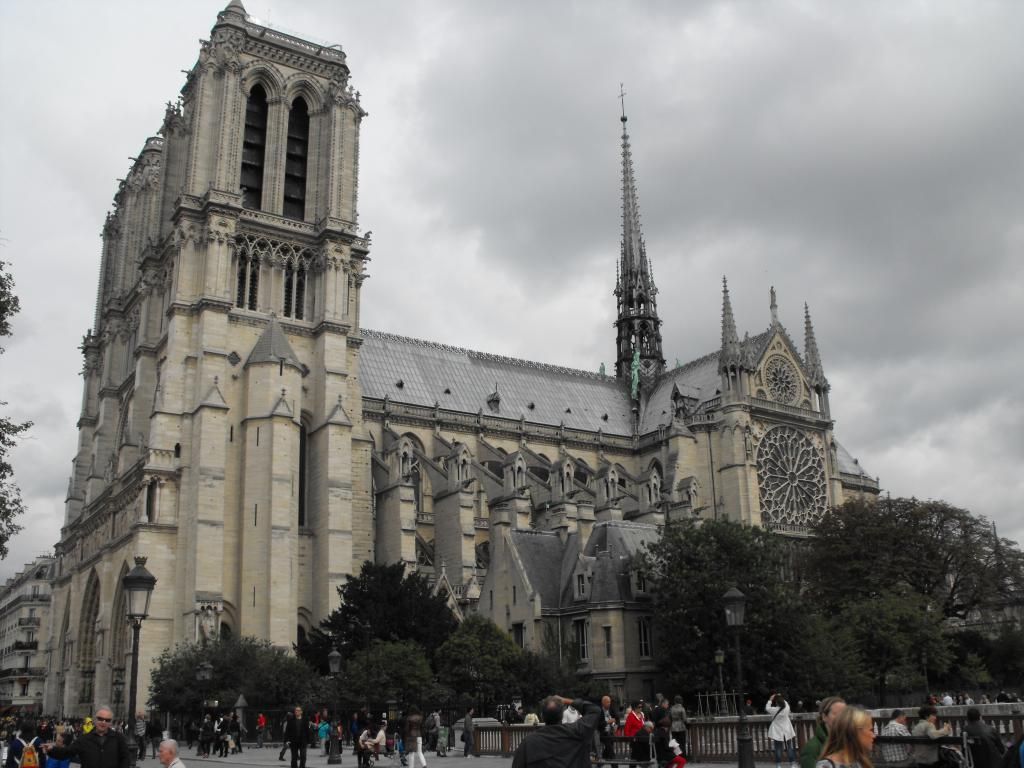 Notre Dame Cathedral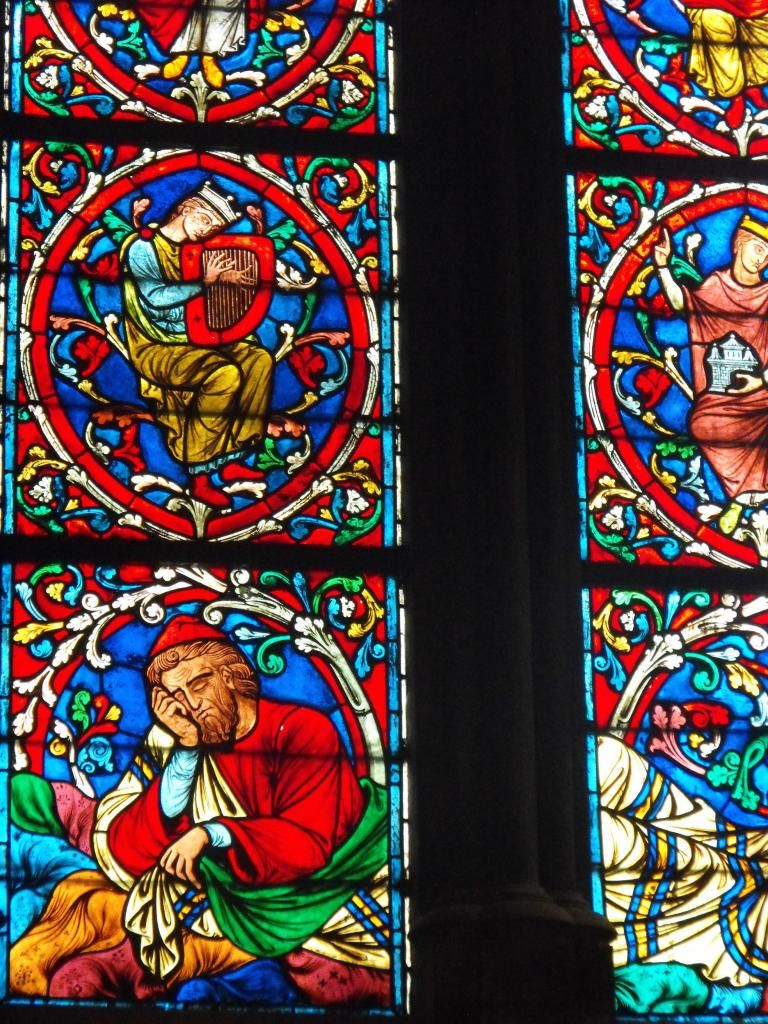 I am officially a cathedra-phile (?)... Even now when I look through my photos of Notre Dame (and my past visits to Barcelona's the Sagrada Famiglia and the Glasgow Cathedral) they give me some sense of peacefulness that doesn't come with my other photos. Notre Dame was breathtaking both inside and outside. Though it was brimming with tourists, it was peaceful, serene, and respectful the entire time we were visiting. From Notre Dame we took a bus past the Hotel de Ville, and stopped at the Hotel des Invalides and the Musee de l'Armee. We couldn't go inside due to a wedding ceremony happening at the time, but we enjoyed to architecture and the cobblestone, and of course the gardens with their aged cannons bordering the property.
Hotel de Ville
From the garden we could see the Eiffel tower, and decided to hoof it rather than wait for the next bus to come along. Along the way we stopped at four or five different souvenir shops all toting the same kinds of trinkets - Eiffel tower keychains, postcards, novelty berets, snowglobes and the like - until we finally reached the base of the legendary structure.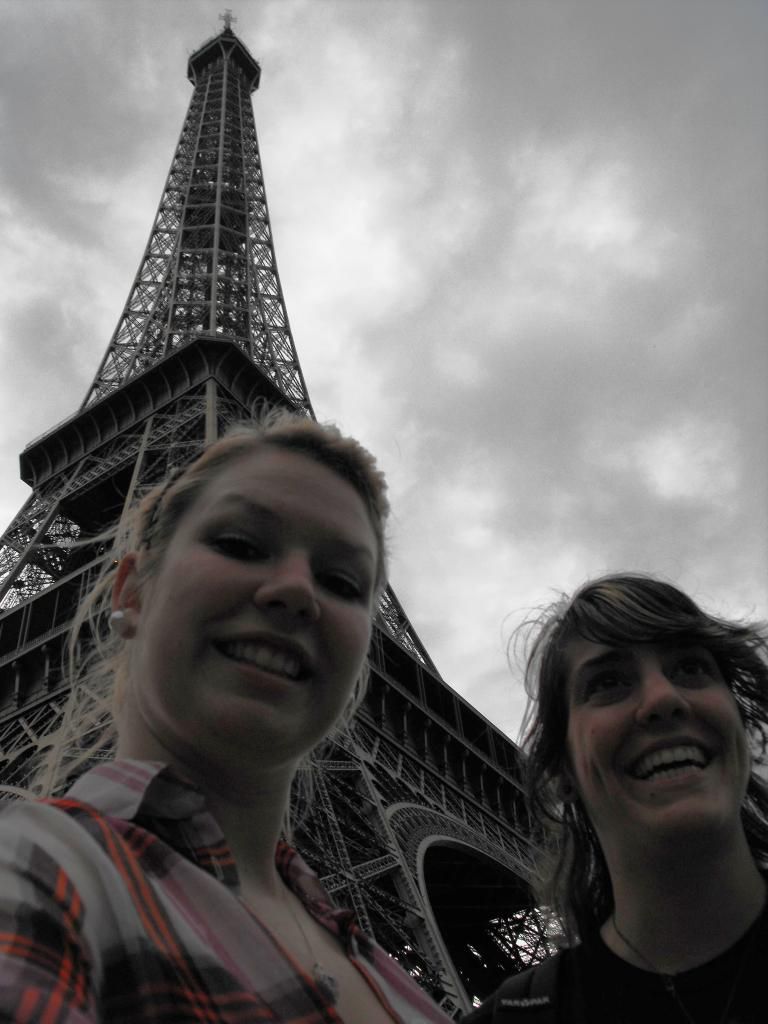 We had the fortunate timing to arrive just before dusk. We learned that at nightfall, the tower lights up in a glittering light show for five minutes every hour. After taking our requisite Eiffel tower photos, we ran along to find a little market where we bought a couple bottles of wine for
€2 each and a souvenir Paris corkscrew, and hurried back to the other side of the tower before it got dark. We settled ourselves on the grass at the bottom of the tower, opened our wine and enjoyed the show. I took a video, if you'd like to see it: Eiffel Tower Light Show
We missed the last bus home, so we took another adventure on the metro back to Republique where Nuit Blanche was in full swing. We were exhausted, but didn't want to miss out, so we got some falafels and went to the square where there was live music and mist machines making the entire square of fog.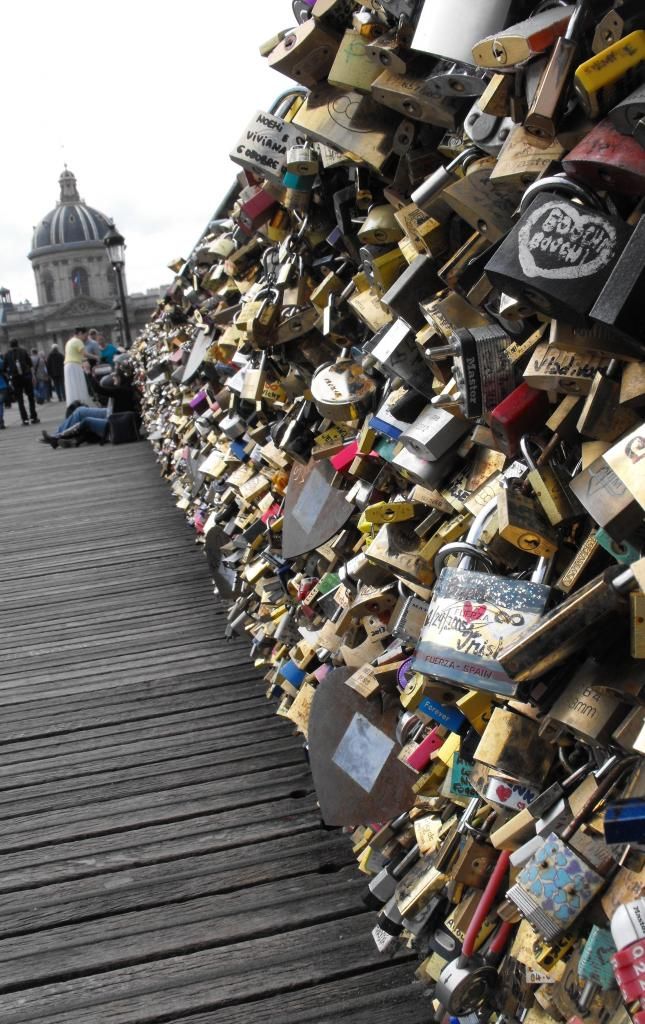 Day two was simiilar to the first, with different sights to see. Fuelled by our hostel breakfast, we started out with the Louvre. Since it was open-doors day, the lineup was a three and a half hour wait. When we considered all the things we could see in do in that amount of time, we decided to cross the Sienne at Pont des Arts and continue on. Pont des Arts was my favourite part of the day. One of the many bridges crossing the Sienne, this one carries a Parisian tradition of love-locks. Couples would lock a padlock to the bridge and throw the key in the river to symbolize their never-ending bond. Of course all along the bridge vendors sold padlocks, but there were a couple of oil painters and one accordion player as well.
We also hit the Musee d'Orsay, the Musee de Rodin, and the Cimetiere du Montparnasse, burial place of Baudelaire (I wanted to make it to Pere Lachaise and see Oscar Wild's gravestone, but it was too far away), before making our way again by the metro to Port Maillot. We had enough spare time to treat ourselves to a real French experience, and got a table on the street of a cafe. Ordering a bottle of red wine and dinner, we toasted to our successful weekend vacation to Paris.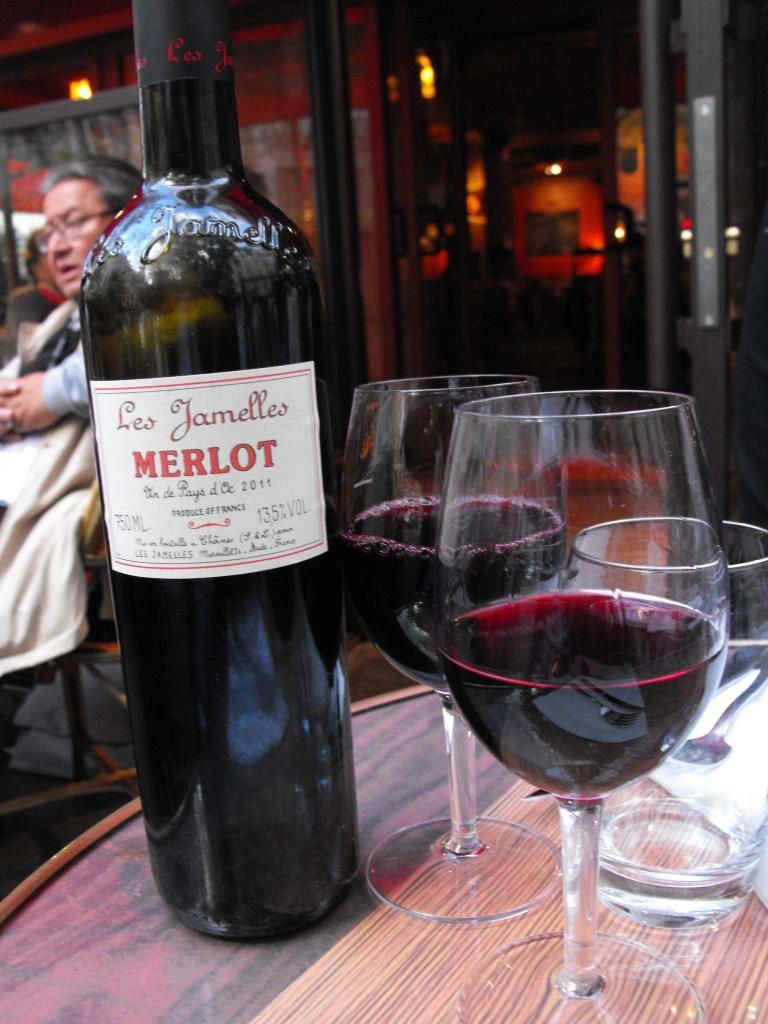 If you've beared with this post this far, I'm impressed, and thank you! By clicking on the link at the top right of the page, in the column next to this post, you can browse my most recent pictures of my trip to Paris.