Finally finally, I have a moment (albeit a moment of procrastination) to update. It's been almost two weeks I think, since I went on these two Student Tours Trips so it's about time I wrote about them.
Gary runs excellent coach bus trips far into Scotland, to places difficult (and expensive) to get to on your own. On our Loch Ness trip we drove through the magnificient Glencoe area and Gary mentioned that he did another day trip to the mountains here. For only £20 we met the bus at the university around 8am and boarded for a long drive into the highlands. Glencoe is the historical site of a famous massacre during the Jacobite uprising. Gary is an unparalleled tour guide, since his knowledge is so extensive but he genuinely loves the places he'll show you. He knows much more than he shares, and it's worth asking him about these historical places. The mountains we visited are called the "Three Sisters" and tower over a deep stream that we had to take on a little wooden bridge to cross. Standing under these highland mountains gives you a moment of perspective, and honestly, they feel mighty and alive.
Glencoe mountains: Aonach Eagach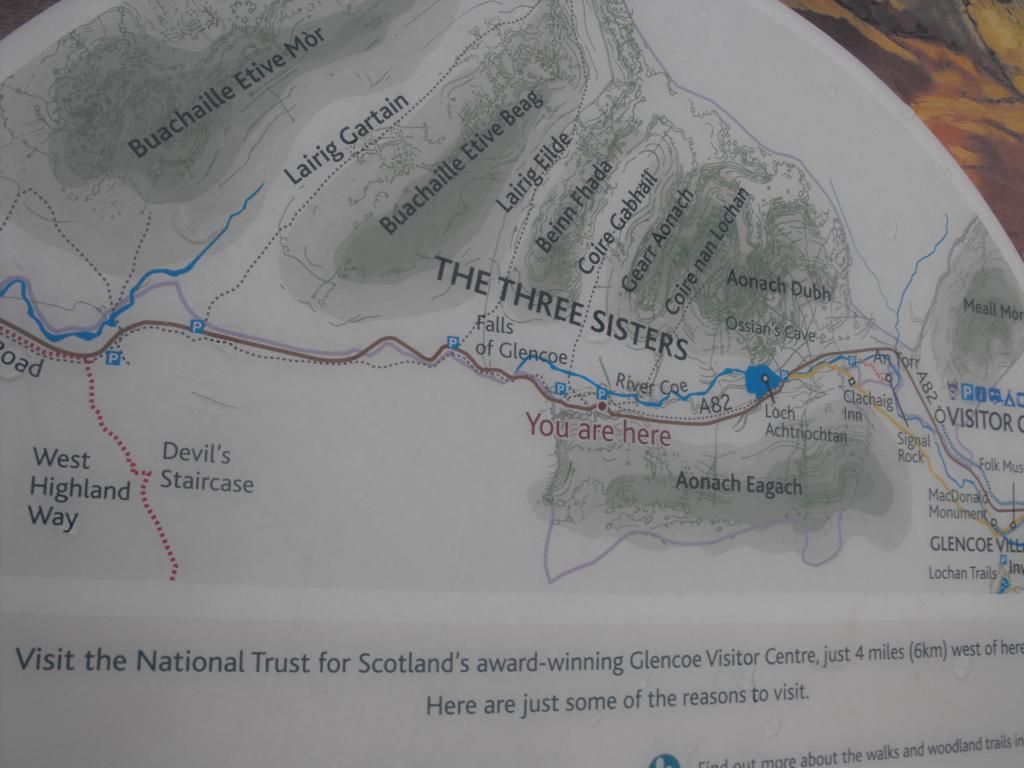 Gaelic mountain names - try to pronounce them, I guarantee you can't.
After a while rambling about Glencoe, we got on the bus once again and drove a little ways through Fort William into Glenfinnan, and pulled into the visitor's center. In front of us was an awesome view down a long loch, on the beach of which a great big monument to the Jacobite is erected (for £3 entry). Behind the lot however, was the Glenfinnan viaduct, a massive bridge by which the Jacobite steam train travels in the summer. It is also to bridge that the Hogwarts Express travels, and I was so excited to be this close to the real deal finally. We could walk right up to the viaduct and in fact under it, and I don't consider myself much of an architecture nerd but it really was impressive and beautiful, set between two orange highland mountains.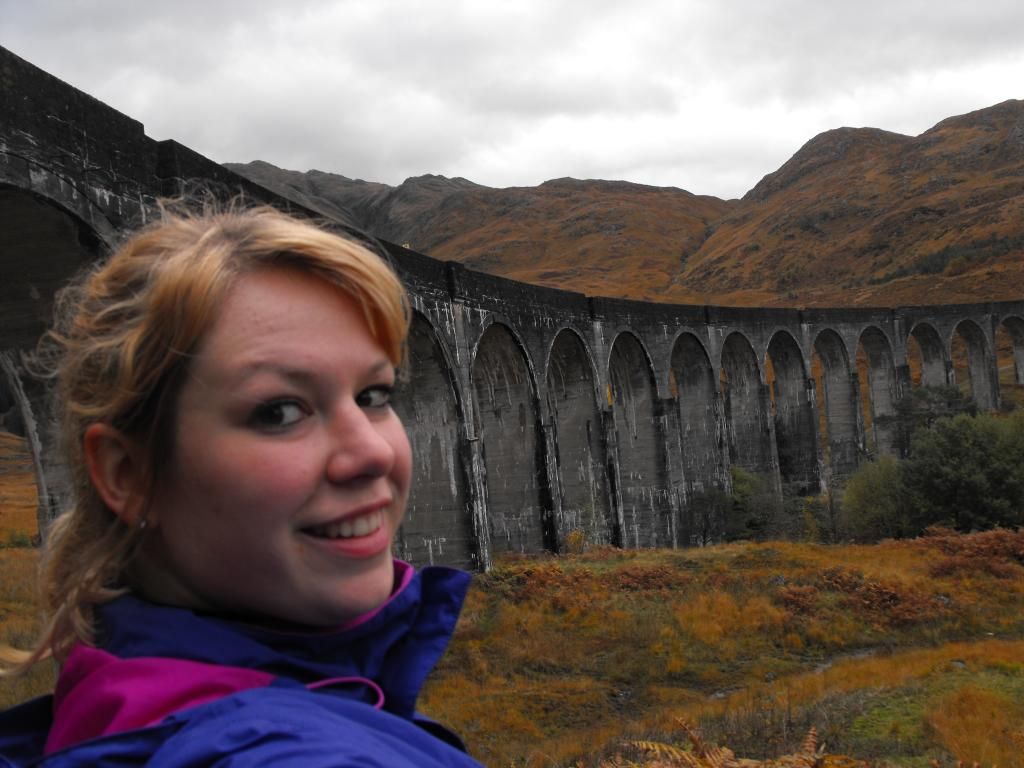 After Glenfinnan we stopped back in Fort William for a bite to eat, or rather a pint. Thinking we were late, Holly and I raced through miserable rain back to the bus afterwards only to find that not even Gary had got on board yet. Oops...
Next day we joined up with Gary again to see the Kingdom of Fife and St Andrews. The bus ride was again long, but we were warned that St Andrews was in a perpetual raincloud and so we were delighted when we arrived to blue sky and sunshine! St Andrews is an adorably typical British town, with castle ruins and cobblestone alleyways and that sort of thing surrounding us all over.We were let off the bus at the beach, where we did some quality rock-climbing before heading into town. The first stop for us was the St Andrews castle, which we got into for
free
thanks to Gary (entry on Student Tours to these sites is always free with the group)! It was possibly my favourite castle so far, though it's ruined and crumbled, the plaques illustrate what it would have looked like, and much of its foundations are intact. The absolute coolest part of this castle in the mine and countermine. Turns out the castle was under seige and was being tunnelled into, and the Scots dug a tunnel of their own to intercept the invaders. These tunnels are still there and have been stabilised so tourists like us could go inside! Besides the ladder and railing, it was so authentic, the walls were wet and slimy and the countermine was only about 4' around - very uncomfortable!
St Andrews Cathedral ruins and cemetery
After the castle we broke off from the group and explored the town ourselves. We walked to the ruins of the St Andrews cathedral, which has become a breathtaking cemetery since its destruction in the Reformation. We wandered through the village for some ice cream and a pint, until we made it back to the bus at the beach and took off for another castle, and another beach.
The ruins are really incredibly preserved, which I've found that I prefer to an upkept castle like the one in Edinburgh. While these are far more historically informative, I love the bareness of the ruins and find that the Historical Scotland group provides a perfect amount of information on plaques without interfering with the ruin itself. St Andrews was absolutely stocked with ruins, from the castle to the cathedral to the ancient university, parts of which still stand. In St Andrews I finally found a perfect Edinburgh lager called Three Hops that made the long ride home into a pleasant nap for me.