Arthur's Seat is apparently one of the most popular climbs in Edinburgh. Some people told us that it was named for the Arthurian legends, but when I looked further into it the Gaelic name for the hilltop i
s Àrd-na-Said

meaning "height of arrows," so the Wikipedia speculation that Arthur's Seat is a warped interpretation of "Archer's" seat makes a lot more sense to me. But honestly, Edinburgh is basically older than Earth itself and so who knows how it ended up the way it is. Six of us (myself, Amanda, Holly, Lauren, Chris, and Joni) took the one-hour train ride to the capital city and went separate ways when we arrived - Amanda, Holly and I walked down the Royal Mile to Holyrood (lol) Park where the trail starts.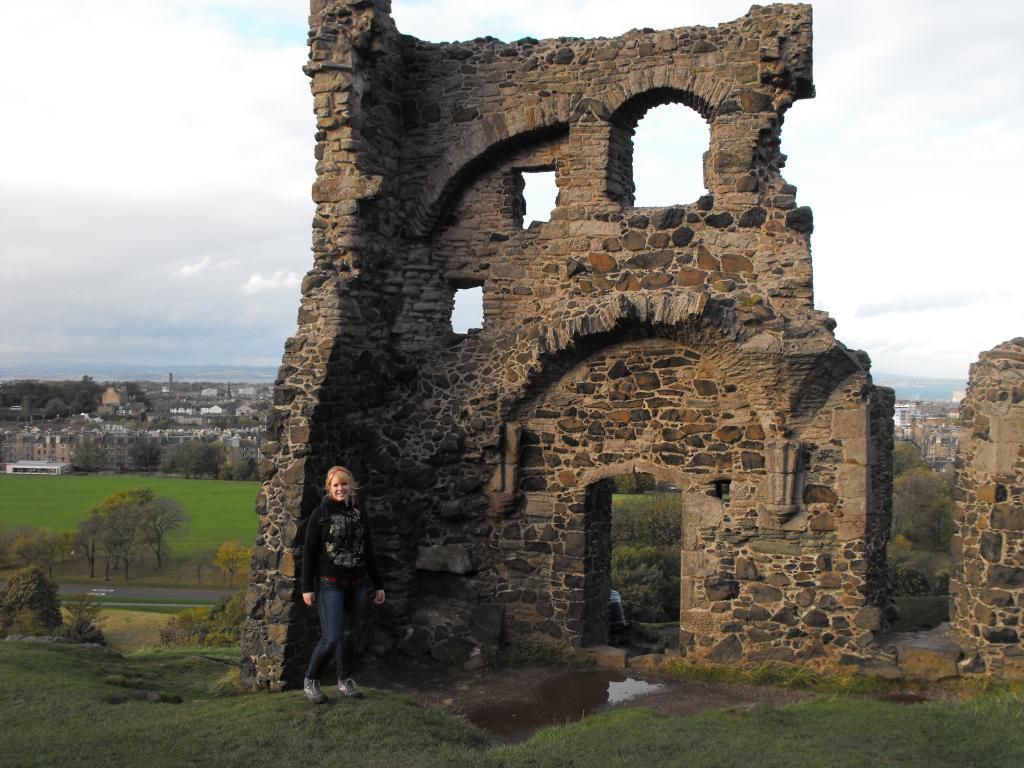 Chapel ruins on the climb to Arthur's Seat
It was a lovely day when we started - clear skies and mild weather. The beginning of the climb wasn't that steep, and there was a ruin of a chapel that we stopped by on the way up for some photos, but mostly because there were tons of huge rocks to climb on. After the chapel it got much steeper and I will sheepishly admit that I need to stop to catch my breath! Once we reached one of the hilltops, the wind started to really get at us. The view of the city was so magnificient, with ocean and mountain and gorgeous architecture all in one line of sight. There was even a little body of water between two hilltops that some swans had collected in. After this, there wasa bit of a cobblestone footpath/stairway that was actually more of a pain than anything else. The very peak of Arthur's Seat was frigid. We all actually bundled up and hunkered down behind a boulder, for fear of being blown clean off the peak by the force of the wind. We had brought some leftover pizza and pancakes (breakfast of champions) and shared a drink at the top while we tried our best to get some pictures, but the wind was so fierce that none of us wanted to risk sitting on the actual stone called "Arthur's seat."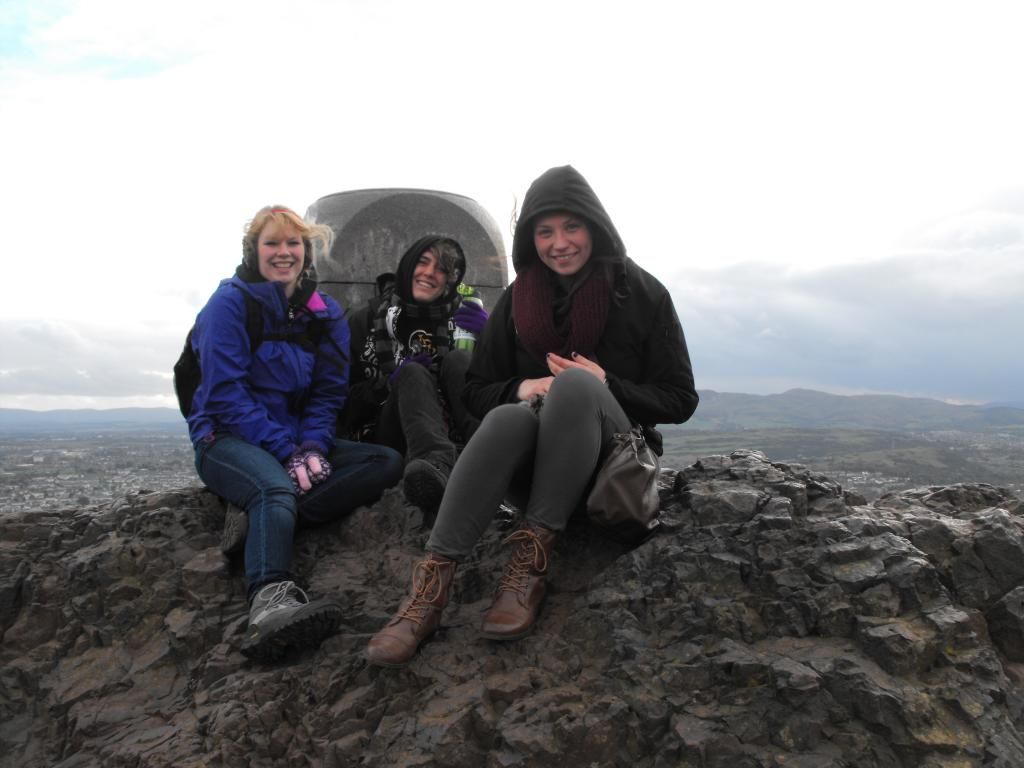 Trying to stay on Arthur's seat
In the distance, just on the opposite side of the city, there was a massive dark cloud. We watched it approach for a little while until we realized what dark clouds typically led to, and decided to get down from the mountain as soon as we could. We only made it to about the chapel (we had to stop for a roll down the hill) before the heavens opened up on us and turned the path into a muddy mess.
I'm always so thankful that Holly and I bought a pair of hiking boots each, and Amanda proved us right when she couldn't get any grip in the mud and nearly ate a puddle.
By the time we got to the Starbucks on the Royal Mile to meet Lauren and the boys I was soaked through (even with my rain jacket on). There was a disturbing lack of Lauren and the guys, so we called them and found out they were waiting for us at the other Starbucks. At the other end of the Royal Mile. No big deal, since we're drenched anyway, so we walked up to where they were warm, dry, and sipping Starbucks.
We had time for dinner before our tour started so we went to the World's End pub, fully decked out for Halloween. The pub was right at the Tron where we met up with Auld Reekie tours. Our guide took us through old Edinburgh, stopping at some historical sites such as the old gallows square, where we could still see staples in the stone walls that apparently were put through prisoners' ears at one time. We went into the Auld Reekie torture museum, where our guide told us about the horrible things each instrument was designed for, before he took us into the vaults. The underground vaults of Edinburgh are abandoned stone rooms and our guide told us ghost stories of each individual vault we went into. It was spooky, but the scariest part of the night was when Amanda got spooked and screamed in the dark for no good reason, and made me jump out of my skin.
Pints at the World's End